The Health Assessment Unit makes up part of the Office of Health Assessment and Epidemiology (OHAE), along with the Epidemiology Unit, the Data Collection and Analysis Unit, the Policy Analysis Unit and the Institutional Review Board, in the Department of Public Health. OHAE is overseen by the Chief Science Officer.
The Health Assessment Unit oversees the development and analysis of the Los Angeles County Health Survey (LACHS), a population-based telephone survey that collects data on health conditions, health behaviors, health care access and utilization of services from a representative sample of Los Angeles County residents. The unit also provides data support, along with the other units of OHAE, for Area Health Officers and their respective staffs for the purpose of improving community health.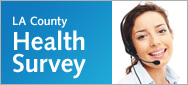 2014 Los Angeles County Health Survey is in the field.