Did you know?

Drownings are a leading cause of injury death for young children ages 1 to 14, and three children die every day as a result of drowning. In fact, drowning kills more children 1-4 than anything else except birth defects. 1
Swim Safety
Enjoying time at swimming pools, rivers, lakes, and the ocean can be a healthy and fun part of our lives. However, there is a risk of drowning associated with enjoying leisure time near the water. Drowning is one of the leading causes of death, especially for young children. Thankfully there are things you can do to prevent an enjoyable activity from turning into tragedy.
Please see the following universal recommendations for drowning prevention so you can enjoy the water safely.
You May Be Interested In...
General Swimming Safety Tips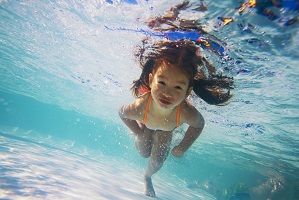 Learn to swim and ensure that your children know how to swim. Many cities offer swimming lessons for children and adults. Contact your city government, local parks and recreation department, local municipal pool, or the YMCA for assistance.
Learn CPR. The American Red Cross and the American Heart Association offer CPR classes.
Never leave children alone or unattended around water. Designate a water watcher at pool parties. It only takes a few minutes to drown and it is most often a silent death. Pay attention to small children when they are swimming to avoid disaster.
Childproof your pool area. Install a safety fence around the pool and equip it with self-latching gates. Remove any items or structures that may be used to climb over the fence. For example, nearby trees and planters can be used by a child to hop the fence. Consider installing alarms on exterior doors to the pool or on the pool cover. Remove tripping hazards around the pool and hazards in the pool. For example, a beach ball or toys in the pool might attract a small child to the pool.
Remember to maintain the pool to keep the water clean and clear at all times. If you can't see the bottom of the pool, you can't see a body if someone has fallen in the pool. Maintain pool drains, skimmers, and equalizers in good repair, as these suction lines can entrap a pool user if not properly maintained.
Provide a life ring and/or pool rescue hook for emergencies. Install a suction release device (SVRS) to immediately stop the recirculation system in case of entrapment on a drain.
Avoid alcohol use around the water. Alcohol use impairs balance, coordination, and judgment.
Call 911 for immediate assistance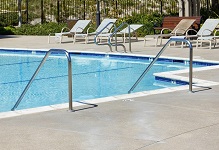 Swimming Safety at Rivers, Lakes, and Oceans
Plan ahead. Check local weather reports for ocean or lake conditions. Rough weather can make swimming challenging.
Swim near manned lifeguard stations.
Use the Buddy System. Always swim with a buddy.
Avoid drinking alcohol before or during swimming, boating, or water skiing. Do not drink alcohol while supervising children. Alcohol use impairs balance, coordination, and judgment.
Use US Coast guard approved life jackets for young children and weak swimmers.
Never dive head first into an unknown body of water.
Be aware of rip tides or strong water current conditions. If you are caught in a rip tide or strong water current, don't panic. Conserve your strength and swim parallel to the shore until you are rescued or able to come ashore.
Know the meaning of colored beach warning flags and obey these warnings. These may vary from one beach to another.
Don't turn your back on the ocean when you are near the water. So-called "sneaker waves" can knock you down if you aren't paying attention.