Cannabis Compliance and Enforcement Program in Los Angeles County
About Cannabis Compliance and Enforcement Program
Beginning in October 2020, the Los Angeles County Department of Public Health's Cannabis Compliance and Enforcement Program (CCEP) started permitting and conducting environmental health and sanitation inspections of commercial cannabis facilities (cultivation, distribution, manufacturer, and retail) for cities that have contracts with us to perform these services.
CCEP ensures that basic construction and equipment requirements are met at each facility prior to issuing a Public Health Permit. Program staff then conduct two annual inspections to ensure that cannabis facilities follow the State regulations and local ordinances. Businesses that follow the safety codes can help prevent injury and illness and help keep the community and employees safe.
Inspection Results
Find the most recent inspection results for cannabis facilities in Environmental Health Inspection Result page. Please note that only businesses located in contracted cities will receive inspections from CCEP. For information about cannabis facilities in non-contracted cities, please contact that local city directly.
What We Do
The Cannabis Compliance and Enforcement Program:
Reviews and approves plans for new commercial cannabis facilities.
Conducts site evaluation for pre-existing cannabis facilities.
Conducts routine inspections and complaint investigations at permitted cannabis facilities.
Provides consultations to potential cannabis businesses.
Important Links:
Areas We Serve
The CCEP provides inspections of cannabis facilities to only those cities that have a specific contractual agreement with the Los Angeles County Department of Public Health.
Cities that currently have agreements include:
| Contracted City | Inspection Start Date |
| --- | --- |
| City of El Monte | February 2021 |
| City of Lancaster | October 2020 |
| Culver City | October 2020 |
Business Information and Documents
Public Health Permits and Inspections
For commercial cannabis facilities located within cities that contract with Los Angeles County, a Public Health Permit will be issued only upon successful completion of a Plan Check or Site Evaluation review. Once permitted, the Cannabis Compliance and Enforcement Program will conduct at least 2 inspections per fiscal year. Information about these services can be found in the following guidelines:
Emblem Program for Authorized Cannabis Stores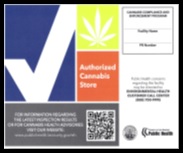 The Emblem Program for Authorized Cannabis Stores is administered by the County of Los Angeles in partnership with contracted cities. The Program is intended to protect consumers and communities by preventing harmful effects caused by unlicensed and unregulated cannabis stores. This is done by requiring cannabis stores to have all appropriate licenses, permits, or authorizations from the State of California and local governments. The Authorized Cannabis stores will display a unique emblem on the store's premises and provide health-related information accessible to consumers.
Public Information and Documents